A new time, a new Sterifarma
Sterifarma has just gained a new visual identity: new colors, new logo and a new signature. These changes inaugurate a new cycle of innovation and growth: new products, new challenges and, above all, a renewed commitment to quality and reliability in everything that Sterifarma offers its customers.
The New Logo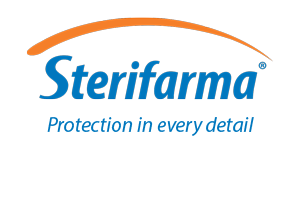 The new logo expresses modernity and vitality in its fresh typology and colors. The orange arc represents Sterifarma's assured quality, ethics and responsibility which, like a vigorous shield, protects and shelters our name and reputation together with the market.
Protection in every detail
We are very proud of the 20+ years of our company's path that has brought further quality, health and safety to our customers. This is a direct result of the meticulous commitment from our entire team, which is expressed in our new slogan: Protection in Every Detail. In this new era we count on a robust team, who are motivated and ready to innovate and make a difference.
Welcome to a new time, a new Sterifarma.